Prediction game: Round 2 – Malaysia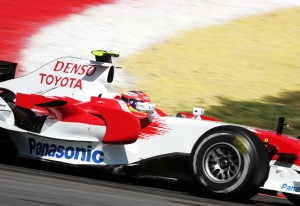 The 2009 Formula One World Championship got off to a cracking start in Melbourne last weekend and now the teams are on their way to Malaysia's Sepang International Circuit for round 2.
From a dusty, unpredictable, temporary street circuit we now go to a modern, Hermann Tilke designed track with long straights and sweeping curves.  Australia may be hot but Malaysia is really hot.  And humid.  The drivers will be hoping the late start of 5pm will make things a bit more comfortable but with the new aero regulations banning many of the cooling vents of 2008 the cars will suffer a serious test of reliability.
Can Brawn GP carry the speed they showed in Melbourne to Sepang?  Reliability is still a question mark for the team but Jenson Button reckons he didn't have to push too hard and the cars have more to give.
Lewis Hamilton showed why he is the World Champion by driving his McLaren from the back of the grid to third place but he is under no illusions about the ability of his car to compete on raw pace:
Sepang is one of the tougher tracks on the calendar, one where we will probably be further from the frontrunners than we were in Albert Park. The track is both fast and technical so requires good mechanical and aero grip. It's much more aero-dependent and rear-limited than Melbourne so it may highlight some of the shortcomings in MP4-24.
Rain is forecast for the weekend, and Hamilton is a master in the wet so that could help him but Jenson Button won his first podium in Hungary in wet conditions and Rubens Barrichello scored Honda's only podium of 2008 at Silverstone in the rain so Brawn GP won't make it easy for Lewis.
Then there's KERS.  Alonso said it didn't help him at all in Melbourne but it certainly made it hard for anyone without KERS to pass a McLaren or Ferrari.  The long straights of Sepang should be more suited to running KERS so perhaps we will see it play a bigger part.
So many questions, so little time to get your predictions in for round 2 of the f1buzz prediction game!
Just leave a comment on this post with your driver predictions for the race in the following format:
Pole:
First:
Second:
Third:
Fastest lap:
Points will be awarded like this:
Predict pole position: 5 points
Predict 1st: 10 points
Predict 2nd: 8 points
Predict 3rd: 6 points
Predict correct driver on podium but not in correct position: 3 points for each driver
Predict fastest lap: 5 points
Remember, you can enter up until the start of qualifying on Saturday and even if you missed the first round there are still plenty of races left to claw your way to the top of the standings to win the grand prize!
You can find the full list of drivers here.