The f1buzz.net prediction game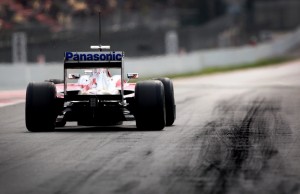 The 2009 Formula One World Championship promises to be one of the most open in years with any of a number of drivers potentially claiming victory starting with this weekend's Australian Grand Prix in Melbourne.  With the old rulebook thrown out and new technology like KERS and adjustable front wings it is almost impossible to predict the outcome of the first race let alone the whole season.
So with that in mind, here's the 2009 Formula One World Championship f1buzz.net prediction game!
McLaren won the Drivers Championship last year and Honda languished at the back of the grid but if winter testing is anything to go by we could see that situation reversed this year with the renamed Brawn team challenging for wins and McLaren's MP4-24 struggling for pace.
When asked about the 2009 season, Renault's Fernando Alonso said:
I think the order of the teams will probably be different from the last few years. We have got used to Ferrari and McLaren dominating, but with the new rules I think there will be lots of cars fighting for the win. Hopefully we will be in that fight.
To be in the f1buzz prediction game fight, follow these simple rules:
Before each race weekend, I will add a prediction game post.  Just leave a comment on that post with your driver predictions for the race in the following format:
Pole:
First:
Second:
Third:
Fastest lap:
Points will be awarded like this:
Predict pole position: 5 points
Predict 1st: 10 points
Predict 2nd: 8 points
Predict 3rd: 6 points
Predict correct driver on podium but not in correct position: 3 points for each driver
Predict fastest lap: 5 points
You can enter up until the start of qualifying.
After each race I will update the points standings and at the end of the year the reader with the most points wins.  It's all about points here, none of that medals crap!
The prize is yet to be decided.  Most likely it will be a smug sense of self-satisfaction.