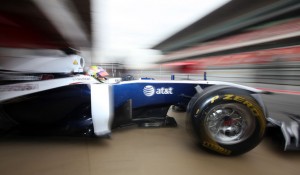 Wow! That was a long time between posts.
But we're back! Just in time for the start of the 2011 Formula One World Championship and with a new tyre supplier, adjustable rear wings and KERS what an interesting season it's going to be.
The prediction game is back too. If you haven't already got it head over to the Facebook page and add it to your account. The rules and prize are the same as last year. And speaking of last year, congratulations to Miguel for winning the 2010 competition! The scores were close right up until the end, just like on the track.
2010  was another fantastic year for Formula One. Let's hope 2011 is even better!
Image: Williams