Where is the stewards' report?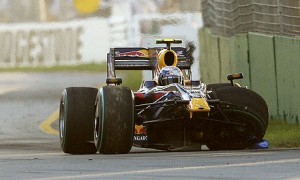 It just wouldn't be Formula One without race stewards applying controversial penalties and last weekend's Australian Grand Prix started the season in fine form.
Hanging over the whole weekend was the question of the legality of the Brawn, Williams and Toyota diffusers.  While Rubens Barrichello thinks his car would be quick even without the fancy diffuser and the race stewards declared it legal, Ferrari, Renault and Red Bull are taking their appeal to court on 14 April.  Williams made a point by lodging a counter-protest against Ferrari and Red Bull only to withdraw it "in the interests of the sport."  I really hope the case is rejected but until then the results of the Australian Grand Prix and possibly Malaysia will be provisional.
The race itself was subject to some controversial decisions, too.  In the final laps, Red Bull's Sebastian Vettel put his car where Robert Kubica's BMW was and a promising race ended badly for them both.
Vettel was quick to offer his appologies to Kubica and team boss Mario Theissen and was duly handed a 10 place penalty for causing the accident.  But was it really his fault?  It looked like a racing incident to me.  Michael Schumacher seems to think so too, telling Germany's Bild newspaper:
He (Vettel) was on the inside – he couldn't make his car dissolve into thin air.
And Kubica himself isn't too sure either:
It's difficult to say who is at fault. I think he was a bit optimistic. If that was the last corner of the last lap it's OK, but in the first race it's important to score the points. It's important you understand what position you are in.
Could it be that Vettel was penalised for being too honest?  If he had just kept his mouth shut and not been so apologetic perhaps the stewards would have let the incident pass.
Jarno Trulli was another disappointed driver.  Before the race even started, Toyota had been found guilty of having a flexible rear wing but after some hasty modifications they were allowed to start from the pits. After a great drive from Trulli we again had the situation where one of the drivers on the podium later has his trophy taken away by the stewards.  Ironically it was all caused by the Vettel – Kubica shenanigans.  Trulli's Toyota slipped off the track under the safety car and Lewis Hamilton had no choice but to pass him.  According to the rules, overtaking under the safety car is permitted "if any car slows with an obvious problem", like running off the track.
The problem seems to be that McLaren, understandably nervous about illegal passing manouvers after the 2008 Belgian Grand Prix where Hamilton was deemed to have passed Räikkönen illegally, thought they should hand third place back to Trulli so Lewis slowed and allowed him to pass.  Here is a video showing Trulli slipping off the track and Hamilton (legally) going past:

Unfortunately I haven't found any video of Trulli taking the place back but Jarno clearly felt he had little choice:
I thought he had a problem so I overtook him as there was nothing else I could do.
The 25 second penalty handed down destroyed a great drive by Trulli and Toyota announced their intentions to appeal the decision:
There are circumstances surrounding the incident that we feel have not been taken into consideration. On Sunday, we announced our intention to appeal the ruling to the International Sporting Court of Appeals. We are currently undertaking procedures to formally appeal the ruling within 48 hours, collecting data to be used as proof of our position.
It's all very confusing. Last year the stewards came in for some criticism over their decisions and according to an FIA meeting back in November of 2008, a number of new stewarding arrangements were to be put in place in 2009, in particular the following:
Following the race, a short written explanation of steward's decisions will be published on the FIA website. This will supplement the formal steward's decision which largely defines the breach of the rules.
The FIA have an awful lot of documentation on their website about lap times and scrutineering checks but the Stewards' Report is conspicuously absent.
I do hope this information is posted soon as it is important to see how the race stewards arrived at their decisions. At least a Ferrari wasn't involved so there are no conspiracy theories. Yet.
Photograph: Darren McNamara/AP