For Sale: Schumacher's Benetton F1 Car (no time wasters)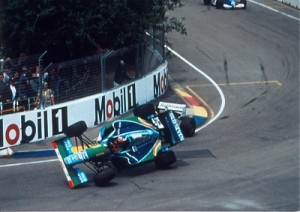 We have covered some rare and exotic racing cars for sale on f1buzz before but if you missed out on picking up Jenson Button's old Honda here is another chance to buy some Formula One history.
Michael Schumacher's old Benetton B194 that he drove to his first World Championship in 1994 is on eBay and the current bid is a bit over €2.5 million (+ €10,000 postage.)
The B194 was designed by Rory Byrne specifically to suit Michael Schumacher's driving style although he would later comment that it was quite tricky to drive being prone to sudden unexpected oversteer.
1994 was one of the most controversial and tragic seasons in Formula One's history. Like Jenson Button in 2009, Schumacher won six of the first seven races. The other teams were a bit suspicious of this and following an FIA investigation it was discovered that Benetton had illegal launch control software on the car but as it could not be proved it was ever used the team faced no punishment.
The eBay listing includes "a laptop with software for configuration of the race car" but it doesn't mention anything about launch control…
Schumacher would later be disqualified from the British Grand Prix for ignoring a black flag and also stripped of his win in Belgium for excessive wear on the skid block but it is the final race of the season in Adelaide that this car is most remembered for. Schumacher's infamous ramming of Damon Hill at the Flinders Street corner forced both drivers out of the race and sealed the Championship for Schumacher.
Image: Williams