Ferrari 250 TR sells for $12 million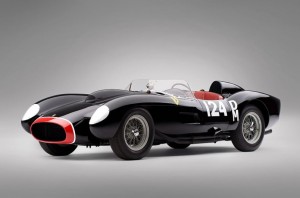 As predicted, a 1957 Ferrari 250 Testa Rossa has broken the record for the most expensive car ever to be sold at auction at the Ferrari Leggenda e Passione event in Maranello.
One of only 34 ever built, it went for $12,156,252 (€9,020,000).  That's more than $2m more than the previous record set at the same sale last year.
With a Scaglietti designed body and striking black and red paintwork, chassis number 0714 was the fourth Ferrari 250 Testarossa built and was raced in the 1958 Cuban Grand Prix where Juan Manuel Fangio was kidnapped by Cuban rebels.
The unique pontoon shaped fender design was said to be one of Scaglietti's favourites, as the designer explains:
Formula 1 was the inspiration for the shape, there were pods on the sides of the F1 cars, (Ferrari Lancia D50) and while I wouldn't call them aerodynamic, they went well. We used a similar idea by designing the body to bring air in towards the brakes to cool them. In many ways the Ferrari 250 Testarossa was a Formula 1 car with fenders.
I once saw a yellow one of these in San Francisco at the California Mille.  It is quite possibly the world's most beautiful car.