What's new in 2010?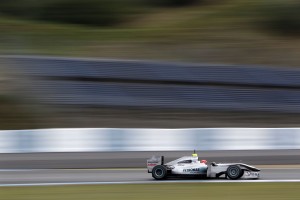 2009 saw one of the biggest shakeups in the Formula One regulations for many years. New aerodynamic rules changed the shape of the cars dramatically. Slicks made a return after ten years of running on grooved tyres. KERS was introduced along with driver-adjustable bodywork.
Some teams like Brawn GP and Red Bull adapted quickly to the new regulations. Others like Ferrari and McLaren took a while to return to their winning ways.
There are not as many changes for 2010 but some are just as significant.
Perhaps the biggest change is the ban on refuelling. Mid-race refuelling is only a relatively recent tradition, having been re-introduced to the sport in 1994. I'm reserving judgement on this change until we see how the races play out. On the one hand I think refuelling can add excitement to a pit-stop (especially when they get it wrong) and it can also introduce an element of strategy to the race. On the other hand, drivers will still need to stop to change tyres at least once and it may well introduce an exciting new aspect to the race as drivers struggle with a heavy car off the line and also have to manage their tyre wear throughout the race.
We will also see some fantastically fast stops. Who will be the first team to break 3 seconds for a pit stop this year?
The cars will remain basically the same in 2010 although most have grown to accomodate the larger fuel cell. KERS is gone as are those ugly wheel covers but the driver adjustable flaps remain. It would be nice to have some kind of onboard graphic to see when the driver is actually using these as at the moment they really add very little from the viewer's point of view.
The other big change is the points system. Last year Bernie Ecclestone wanted to introduce a medals scheme to encourage drivers to go for wins instead of points. Thankfully that didn't come to pass but in 2010 the points system has been modified to give greater emphasis on winning a race. The new points system for both Drivers' and Constructors' titles is now like this:
1st : 25 points
2nd : 18 points
3rd : 15 points
4th : 12 points
5th : 10 points
6th : 8 points
7th : 6 points
8th : 4 points
9th : 2 points
10th : 1 point
With 26 cars (hopefully) and four World Champions on the grid, 2010 is shaping up to be one hell of a season. It all kicks off in less than a month in Bahrain.
Can't wait!
Image: Mercedes GP