McLaren launch MP4-25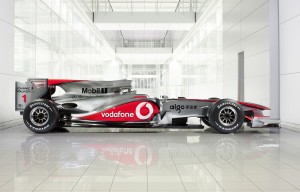 McLaren launched their new F1 car, the MP4-25, at Vodafone's headquarters in Newbury today.
2010 marks the first time since the 1989 pairing of Senna and Prost that McLaren will have an all world champion driver lineup and as the 2008 champion and the 2009 champion pulled back the cover, Lewis Hamilton remarked how different the MP4-25 looks from its predecessor.
The significantly larger fuel tank has forced an aerodynamic overhaul, the most noticeable feature of which is the long shark-fin that stretches all the way back to the rear wing – similar to last year's Red Bull RB5. McLaren's chief engineer, Tim Goss:
The dorsal fin is partly to accommodate the additional cooling duct and partly a logical development of the high-downforce wing we ran last year at races like Monaco, which feeds air more efficiently to the rear wing upper element.
The car looks stunning; even more like a rocket-ship than last year's MP4-24. McLaren have retained the striking silver finish, despite Mercedes GP also adopting the same colour. While I like the carbon fiber touches on the Mercedes, I think the McLaren has the better finish of the two.
But the thing I like most about all the cars this year is the uncovered wheels. Can't wait to see those glowing discs again!
Images: McLaren