2009 F1 Buzz Prediction Game Winners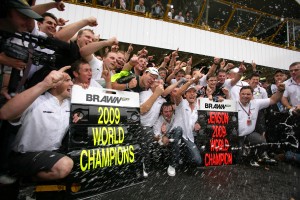 With the final Grand Prix of 2009 the innaugural F1 Buzz Prediction Game also draws to a close.
The 2009 Championship was another very close season with six drivers from four teams winning races. Brawn dominated the opening Grands Prix but McLaren made one of the biggest comebacks ever in the second half of the season.
All through the year there was the constant presence of Red Bull and the occasional threat of a Ferrari and even Force India.
All this meant that predicting who would win or even who would stand on the podium was a dificult task. In the end, the prediction game was even closer than the Championship with a single point separating second and third places.
Thanks to a lucky couple of weeks in the Far East I actually ended up with the most points but as I was just playing for fun and not prizes my score doesn't really count. 🙂
This means that the 2009 Champion is Andrew with a score of 173, closely followed by Sergio with 172. Despite apparently knowing nothing, Kathryn came in third with 133.
As announced, first prize is a 1:43 scale Minichamps replica of Jenson Button's Brawn GP BGP001. Second and third will each receive a copy of the 2009 Formula One Season Review DVD.
Congratulations to the winners (email me at david@f1buzz.net to let me know where to send your prize) and thanks to everyone for taking part. I hope you enjoyed it. A special thanks also goes out to Miguel for suggesting the idea!
Only four months until next time!
Image: Brawn GP