Heidfeld to get new helmet at Nürburgring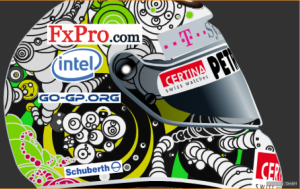 Continuing the tradition of drivers wearing special helmet designs for their home Grands Prix, Nick Heidfeld has chosen one of over 9000 designs fans submitted to his website to wear at the German Grand Prix next week.
At the British Grand Prix, Lewis Hamilton and Jenson Button both commissioned special helmet designs for their home race, although it didn't seem to bring either of them much luck on the day.
The design by Hungarian fan Tamás Simon is made up entirely of circles and impressed Heidfeld and his helmet designer Jens Munser.  Heidfeld said:
This helmet stood out from all the rest. In fact, as soon as I saw it, I thought that it was a likely winner. My immediate impression was…'Wow!'
You can see Nick's top 11 here.  As Heidfeld explains:
In the end, it was very difficult to limit the finalists to ten. That's why we decided to go for a shortlist of eleven.
Thank god he didn't choose the one with ears or the one with the big picture of his bearded face on the side.
After the race, the helmet will be donated to German television station RTL who will auction it off with proceeds going to the 'Wir helfen Kindern' charity.
You can submit bids by e-mail to auktion@spendenmarathon.de.