Prediction game: Round 3 results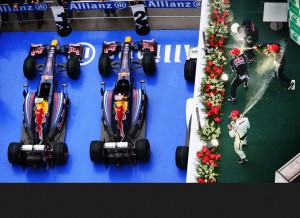 Listening to the whinging of Renault's Flavio Briatore you could be forgiven for thinking that the FIA had handed the Championship to Brawn GP by  ruling their double-decker diffuser legal but Sebastian Vettel and Mark Webber proved that cars with 'standard' diffusers can still win races by taking a stunning one-two victory in China last weekend.
Even though the Brawn GP cars were carrying more fuel and were faster in qualifying, Vettel was flawless in the wet race conditions and Button could only manage third place with Barrichello behind him in fourth.
While no-one thought (correctly) the Red Cars would be a threat, Andrew was the only one to predict a podium for Vettel and so managed to narrow Sergio's lead to three points.
Keep an eye out for the Round 4 post which will be going up soon!
Image: Getty