Prediction game: Round 2 results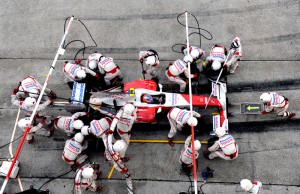 Malaysia may have finished under red flags with less than 75% of the race run but here on f1buzz we're awarding full points for what was still a pretty exciting race. Up until the standing around in the rain, that is.
The prediction results are up and it seems most people still haven't got used to the fact that Ferrari can't win races at the moment.  Like other people I had both Red Car drivers in my predictions for round two and therefore ended up with a measly 3 points.  I was still expecting some Massa qualifying magic and Raikkonen to pull out a fastest lap but when Kimi put on the shorts and pulled out the ice creams I knew that wasn't going to happen.
Andrew on the other hand successfully predicted the Button domination and leaped up the scoreboard from last to second place with a haul of 20 points.
The next race is China in ten days time.  Will Ferrari have figured out how to go fast by then?  Will the Brawn GP cars have been declared illegal?