Another transitional year for Honda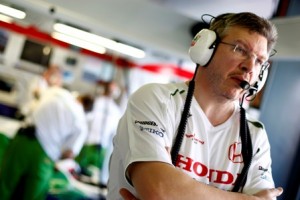 Ross Brawn, Team Principal of Honda, has said he is "really optimistic" about the chances of the team finding a buyer by the end of the month. Speaking to Italian paper La Gazzetta dello Sport, he also said Honda have approached Ferrari about the possibility of them supplying engines for the team in 2009.
But while other teams are preparing to launch their 2009 cars in the coming weeks, Honda faces "at least six weeks of work" integrating whatever engine they decide to go with. Honda have already said they will not supply the team with engines in 2009. So once again, even if Honda survive to race in 2009, it will be another "transitional" season for the team. Brawn said:
We are studying a package of evolutions for 2010, when we aim to step up the ladder. Next year will remain for us a transitional one.
How many years does the loyal Jenson Button have to wait to get a car deserving of his talents? It was clear early last year that Honda's RA108 just wasn't fast enough but with Ross Brawn signing on and the 2009 reboot of the rules I was hoping Honda (and Jenson in particular) could be competetive in 2009. Unfortunately it seems like Button's career will be put on hold for another year. Bernie Ecclestone thinks he should hold out for a seat in a top team:
He should be in any of the top teams. I'd rather see him wait to get a seat in one of those than race in an uncompetitive car.
He might not have a choice.